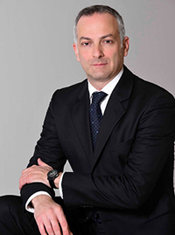 With over 15 years of experience in Data Center, Project Management and Consulting, Giannis Noulis joined LAMDA HELLIX in 2004. Under his leadership, the Integration & Consulting team have designed and developed some of the most significant data center projects in SEE.
Prior to that, he had managed many sophisticated and innovative data center projects in the MED Region. He is the first active engineer in Greece that obtained an Uptime Institute Accredited Tier Designer Certification in 2009.
Giannis holds a BA in Electrical & Computer Engineering from the Polytechnic School, Aristotle University of Thessaloniki, and an MBA from the Hellenic Management Association.