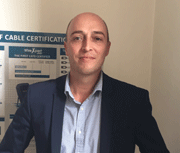 Philippe has worked in Test and measurement industry since 1997.
Since 2000 he specialized himself on the physical layer copper/fiber/wi-fi and has worked for well-known companies acting in this industry, such as Microtest, FlukeNetworks, and since 6 years for PsiberData/Softing IT Networks.
During his working life time, he had the opportunities to be part as an observer during few standardization meetings. (IEC TC46 WG9).
For Softing IT Networks, he's part of an internal Cabling vendor group in order to establish bridges in between cable and connector manufacturers and his R&D team.