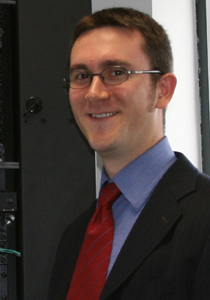 Davide Badiali works for CommScope with the role of Technical Manager for Italy, Greece and Cyprus. Locally he is the responsible of the technical support for the Enterprise division.
He joined the company in 2001 in the Avaya Connectivity Solutions group before the acquisition done by CommScope in 2004; he has a deep knowledge of the new generation cabling solutions such as intelligent cabling systems.

BICSI member since 2006, in the same year he obtained the RCDD qualification, while in 2007 the CCNA certification from Cisco.
Involved in business development of new customers and sales activities with existing customers, business partners and consultants, he participates in conferences and webinars as spokesman to study in deep subjects related to structured cabling systems (intelligent patching, BAS, data center, new technologies on copper or fiber optics, etc).

He worked also for a local technology magazine as a freelance journalist, where he continues to collaborate occasionally with articles relating on IT infrastructure and new technologies.
Davide has studied at Politecnico di Milano where he obtained a degree in Telecommunication Engineering.