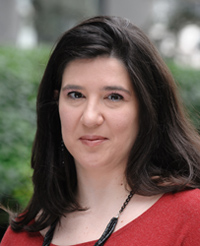 Chara joined Cisco in 1999 as a Pre-sales Systems Engineer. Today she is the Sales Engineer Manager & Architectures Leader for Greece, Cyprus and Malta. Chara is responsible for all Architectures and Technologies for Public & Private sector customers and leads communication with Partner technical teams in Greece, Cyprus and Malta.
She has specialized in Enterprise Networking with a strong focus on Wireless Mobility. 
Chara achieved her CCIE certification in 2001, and starting 2004 she has been representing the company's South region in Cisco's Technical Advisory Groups related to Enterprise Wireless Mobility. In 2009 and 2013 she was recognized as a Sales Champion within Cisco's Pre-sales Engineering community at worldwide Scale. 
In 1997, Chara received her diploma in Computer Engineering and Informatics from Patras Polytechnic University.She holds MSc titles in Data, Telecommunications and Networks from Salford University, UK and Project Management from George Washington University, US. She has also attended several specialized seminars on Leadership & People Management, Soft Skills Development and Leading Virtual Teams.