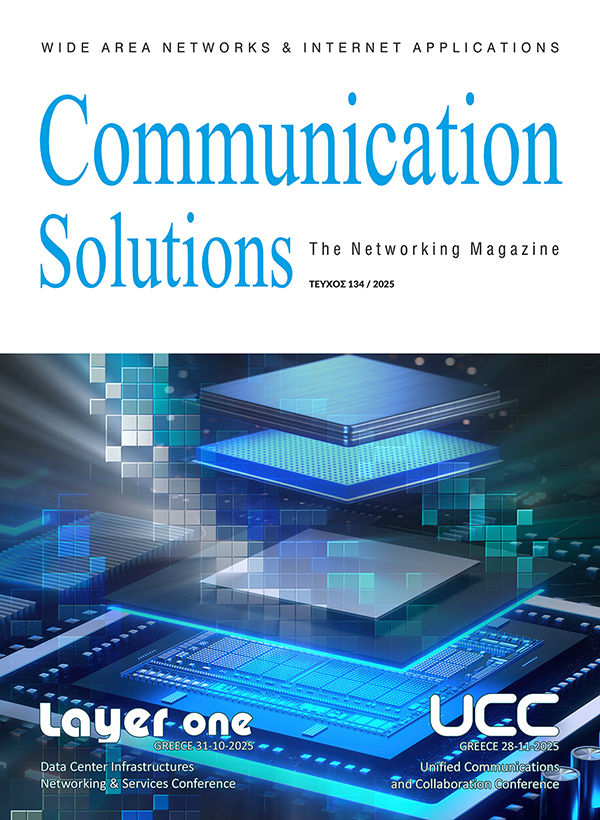 CS   130
---
P 04 - Το κόστος λειτουργίας του UPS στα κέντρα δεδομένων
           και τρόποι υψηλής απόδοσης   
             Άρθρο του Δημήτρη Νομικού
P 14 - IEEE 802.3 Ethernet
            50 Χρόνια Παγκόσμια Υιοθέτηση, Εξάπλωση και Σύγκλιση
            Άρθρο του  Δημήτρη Φιλίππου 
 P 30 - Απαιτήσεις Ασφάλειας  Εγκατάστασης Συστημάτων UPS
          Άρθρο του Νικόλαου Στήθου 
Communication Solutions magazine has established itself over the last 24 years as a valuable source of technical information on the latest technologies on data communication sector.
The target group of magazine consists of 10.000 IT & Telecom professionals.
For 24 years, Communication Solutions is delivering in-depth content on an array of key enterprise technologies : WANs & LANs, wireline & wireless technologies, cabling, data centers, network security, back up & recovery, network & storage management, unified communications, virtualization & cloud computing, wan acceleration etc.