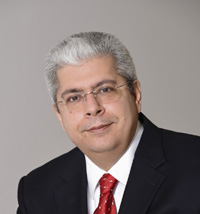 Alexandros Bechrakis is Director, Commercial Operations of LAMDA HELLIX since 2011, responsible for the sales and marketing for the Data Center Facilities and Integration and Consulting Services. In this role, he has been dealing with major projects and enhancing the company's business portfolio.
Prior to joining LAMDA HELLIX, Alexandros has worked as Regional Manager for Enterprise, Financial and Commercial Services, leading a team of senior professionals in many countries in SEE. He is a founding member of Athens Wireless Metropolitan Network, has been a member of the Private Sector Committee of the Greek Federation of ICT companies (SEPE) and is the author of several articles and blog entries published in Greece, Cyprus and Malta paper and electronic media.
Alexandros holds a BSc in Computer Engineering and Informatics Department, School of Engineering, University of Patras.