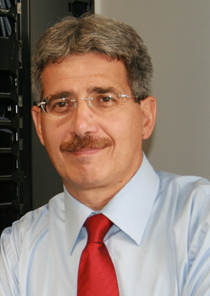 Giampiero has been working in the ICT industry for over 36 years, his experience is equally based on technical and sales skills.
He started in 1977 as Remote Controls designer in Landis & Gyr and then he evolved as automation systems designer, software analyst and developer and Responsible of the Software Development Lab in Dataconsyst, an ICT primary Italian company,  that had in charge the development of Advanced Software Applications to Manage and Control Wan Networks country wide deployed.
In 1990 he became Product Marketing Manager of the DataConsyst LAN division and then in 1997 was appointed as RIT Technologies Business Developer for the Italian Market. In 2000 he joined Lucent Technologies, then AVAYA, always as Business Developer till when, in 2008,  he started a new experience in Building Automation in Honeywell Building Solutions (HBS) as Advanced Solutions Business Developer.
Later, in 2011 he accepted the position of Sales Director for Italy, Greece and Cyprus in the Enterprise Division of CommScope Inc.