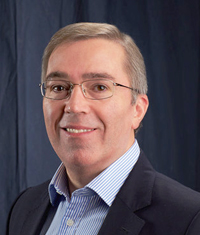 Steve Luczkiw is Panduit's Commercial Director for EMEA. In this role, he is responsible forseveral critical functions within the company including Marketing, Sales Operations& Enablement, Customer Experience, ChannelDevelopment and Partner Programs.
Steve joined Panduit in 1997 and his first position was as Export Manager focusing on the emerging markets. For a year he was based out of Warsaw. Since then he has held several senior posts including VP Sales EMEA and VP Business Development. More recently he was Senior Vice President of Corporate Sales and Marketing and was a member of the executive leadership team based out of Chicago and London.
Prior to joining Panduit, he worked for 12 years at BICC Cables where he was responsible for internationalSales and Business Development of which 4 years were spent livingand working in Italy.
Steve attended the University of Salford in the United Kingdom where he received his bachelor's in Electrical Engineering. He also attended University of London Kingston where he earned his MBA.
He has travelled extensively around the world andspeaks fluent Italian and Ukrainian. Steve resides in London in the United Kingdom.