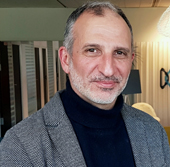 Frederic has the role of outbound marketing for the Mitel Unified Communications portfolio of products, including designing and creating various types of technical marketing and sales collateral to support go-to-market activities.

He also has the responsibility of collaboration with product management, engineering, and sales teams to develop campaigns and promotions to support portfolio sales and promoting the product to the Mitel Channel partners.

Frederic is a Marketing professional with extensive experience in multiple disciplines within the high-tech sector, including Unified Communications, VoIP, Contact Center, Collaboration, Cloud Communications, Mobility, Unified Messaging and Virtualization.